We sincerely appreciate your continued interest and support of our market insights. Below we recap our three most popular blog posts of 2020. If there is a topic you would like for us to cover, please contact us.
As always, we welcome your comments or questions.
Best wishes,
Prospector Partners

---
Podcast #1 – The Prospector Story with John Gillespie
There is a story behind every person.
Prospector's founder John Gillespie joined Havener Capital Partners founder Stacy Havener, to tell us about his story. In this podcast, Mr. Gillespie walks us through his own journey, which started with a Wall Street Journal subscription while he was in college and eventually led to him brushing shoulders with insurance legend Jack Byrne (ex-GEICO CEO).
---
Dissecting Q1 2020 Market Performance by Size, Sector and Factor
Now that the sun has set on one of the most volatile quarters in recent memory, let's assess the damage. Broadly, large cap indices like the S&P 500 held up better during the selloff, as illustrated by the graph below.
The outperformance of large caps isn't surprising and is consistent with past market corrections, as there is typically a "flight to quality" sentiment during these periods. Investors tend to shift from "riskier" small caps to larger companies with established brands and diversified revenue sources, as well as those with higher dividend yields (on average). During a selloff, the dividend aspect is usually an especially appealing characteristic of owning large caps, and a premium is usually placed on high dividend payers since the income helps offset stock price weakness.
---
The Potential for a Return of Inflation, Part 2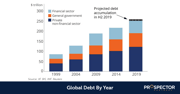 Last week, we discussed an array of possible factors that could contribute to a rise in inflation. These include:
In an effort to spur the economy, policy makers have embarked on an unprecedented campaign of quantitative easing, a tool which is inflationary in nature.
Stimulative economic policy has pushed global debt to $255 trillion, which has roughly doubled since 2004, as evidenced by the graph below. All else equal, high debt levels lead to high inflation.