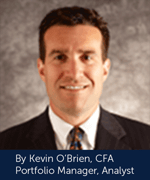 Prior to joining Prospector in 2003, I worked at Neuberger Berman for seven years. I initially joined the firm as an insurance analyst, but soon began following many different types of companies, from small caps to large diversified financial services firms. I joined the Neuberger Berman Genesis Fund team in 1999, first as an analyst and was later promoted to co-portfolio manager. My responsibility for the Genesis Fund started with Financials, and later broadened to include the Consumer and Technology sectors.
Here are some lessons I learned from my time at Neuberger Berman (NB):
Similar to how we operate at Prospector today, we worked very well as a team. For example, at Prospector, we don't put positions in the portfolios unless we all are in agreement on the position. This team approach has worked well and has been a time-tested approach to investing.


It was at NB where I honed my value investing discipline. As a classic value shop, there were many styles of value investing practiced at Neuberger - such as low price to earnings ratio, high dividend yield, contrarian, private market value and free cash flow. The Neuberger Berman Genesis Fund has an excellent, long-term track record. I fell in love with their practice of focusing on free cash flow as the lifeblood of a company. You can't pay dividends, repurchase shares, or internally fund growth without it. This same practice is emphasized in the holdings across our products.


I learned to focus on the importance of a business that can maintain a moat or proprietary products in order to protect it from competitive threats. Many of our holdings have been able to sustain their business models and grow market share because of the strength of their brands and the uniqueness of their product and service portfolios.


I learned to never overplay a strong hand. It is important to size positions properly. We typically will hold about 25% of the portfolio in our top ten names.


The Genesis Fund is a multi-billion-dollar portfolio. Prospector's leaner size enables us to have greater flexibility in purchasing and selling smaller company shares. We also have the option to buy larger companies if we are unable to find small and mid-cap companies that fit, or the larger companies are more attractively valued.
If you would like to be notified when we release new blogs and more in-depth content, please let us know!
Just complete the form on this page and we will deliver our insights to your inbox once per week.