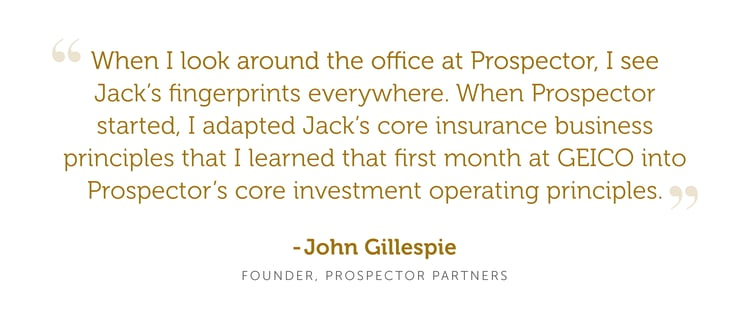 Out of all the mentors who have passed lessons down upon the Prospector team members, the teachings from John (Jack) Byrne may have left the largest impression.
Prospector founder and Portfolio Manager John Gillespie notes the following observations regarding the lasting impact Jack had on the firm: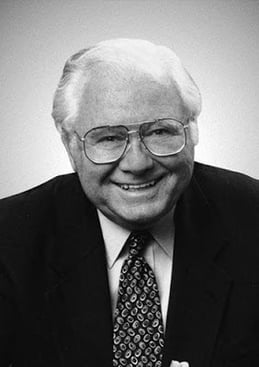 When I look around the office at Prospector, I see Jack's fingerprints everywhere. When Prospector started, I adapted Jack's core insurance business principles that I learned that first month at GEICO into Prospector's core investment operating principles.
"Underwriting comes first" became "Bottom-up company analysis comes first"
"Maintain a disciplined balance sheet" became "Maintain a disciplined, low leverage portfolio construction"
"Invest for total return" became "Invest for total return after tax"
"Think like an owner" became "Eat our own cooking and invest side by side with our clients"
Another way Jack's legacy lives on at Prospector is in living and working with a spirit of generosity. Be generous in spending time with associates when they ask, openly share the reasoning behind key decision making, and, above all, spread the wealth. This had resulted in a productive organization where like-minded folks can join, stay productive, and build a career.
Jack Byrne, born in 1932, was an insurance industry magnate, famous for his turnaround of GEICO and partnership with Berkshire Hathaway. Born in Paterson, NJ, Jack grew up in the insurance world as his father operated an agency in Wildwood, NJ. He attained a bachelor's degree from Rutgers and a master's degree from the University of Michigan, both in mathematics. He also served in the U.S. Air Force before working at Lincoln National Life and Travelers where he became executive vice president of life insurance operations.
In 1976, Jack was passed over for president of Travelers, so he joined GEICO (or the Government Employees Insurance Co.) as CEO. The company had originally carved out a strong niche for itself, selling auto insurance to government employees at a discount because they had fewer accidents, and then broadening its customer base to include private sector workers. However, due largely to overexpansion, the company had fallen on hard times and was losing money by 1975.
Beginning an aggressive turnaround campaign, Jack transformed GEICO from a money-losing business to an insurance powerhouse. It was around this time that Warren Buffett's Berkshire Hathaway began to invest in the company, which it would continue to do until owning the company outright in 1995.
Mr. Buffett himself has some of the more colorful depictions of Jack, once comparing him to "the chicken farmer who rolls an ostrich egg into the hen house and says, 'Ladies, this is what the competition is doing.'"1
Jack would go on to lead another turnaround of a major insurer, Fireman's Fund, as well as manage White Mountains Insurance Group which also worked with troubled insurance companies. He passed away in 2013 at the age of 80.
John Gillespie worked as a senior analyst at GEICO from 1980–1985, serving as Mr. Byrne's "human spreadsheet." In 1997, they reunited and Jack became a founding investor of Prospector Partners. Prospector joined forces with Jack again in 2005, managing capital for White Mountains Insurance Group for approximately nine years.


1https://www.nytimes.com/2013/03/13/business/john-j-byrne-dies-at-80-saved-geico-from-bankruptcy.html