Is value investing dead? It's a question that has been posed time and time again over the past few years as growth stocks continued to outperform. Many investors assumed a recession would cause the pendulum to swing back toward more reasonably-valued or undervalued stocks, but given the unique nature of this economic downturn, that obviously hasn't happened.
Technology companies have been dramatically less affected by stay-at-home restrictions than most other sectors, and some have even benefited. Companies operating in the cloud and Software as a Service space were at the right place at the right time given the stay/work-from-home measures. Services related to video streaming, social networking, online video and chat communication, online workouts and home delivery have been in high demand.
The Russell 1000 Growth Index is heavy on these names (i.e. Microsoft, Amazon, Alphabet and Facebook accounted for 24.7% of the Index as of 4/30/20), and the outperformance of this index has been staggering. Observe the following year-to-date returns:

Year-to-date
U.S. Index Performance*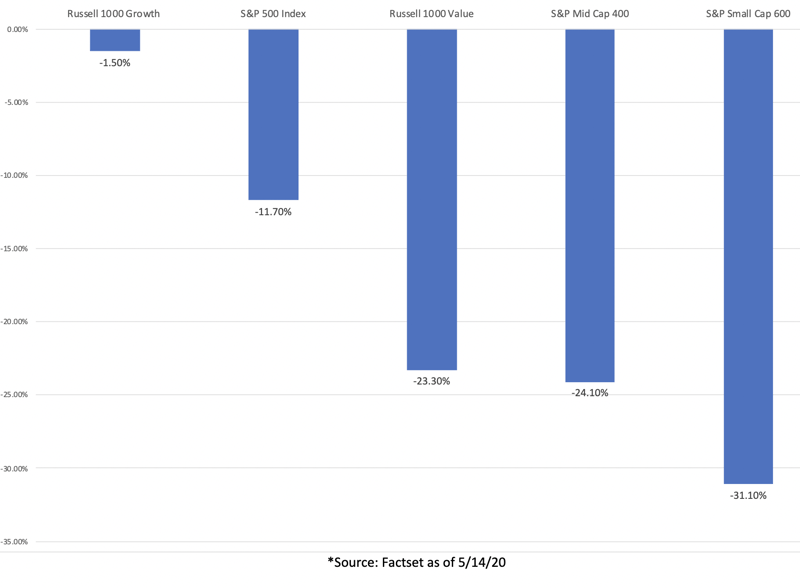 If the current recession didn't shift investor preference back toward value stocks, what would? Sometimes revisiting past trends throughout history is often a more fruitful exercise than trying to predict the future. The table below displays the annual returns for the Russell 1000 Value Index and Russell 1000 Growth Index, with the outperformer highlighted in green. One can see that the first decade of this millennium was dominated by value stocks, beginning with the burst of the Dotcom Bubble and extending nearly through the end of that economic cycle.


Annual Returns (%), 2000-2019
Outperforming Index Shaded Green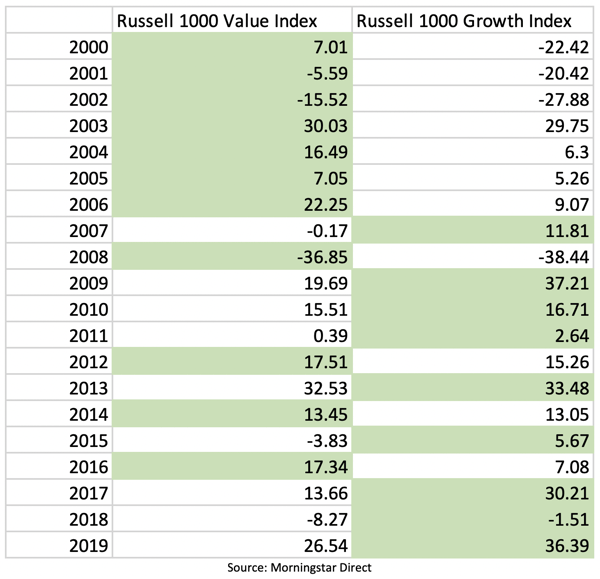 It's also important to remember that all sectors evolve, and companies mature. The largest internet-related companies today will eventually see their earnings growth rates mature and valuations compress, and they will ultimately become value stocks. Unless of course, they reinvent themselves in a manner similar to Microsoft.
So is value investing dead? Market cyclicality has been a powerful force, not just in terms of value versus growth, but also in terms of small cap versus large cap and active versus passive. There are countless micro and macroeconomic factors that could spark a reversion to the mean, and investors betting against such historic cyclicality should proceed with extreme caution.