Many investors have followed the rise of the FAANG stocks (Facebook, Apple, Amazon, Netflix, and Google (Alphabet)) during this economic cycle, but many are unaware of just how large a piece of the S&P 500 Index these five companies have become. If you include Microsoft, which boasts a market capitalization of just over $1 trillion as of 8/28/19 and is the largest constituent in the Index, these six companies make up 19.4% of the entire Index.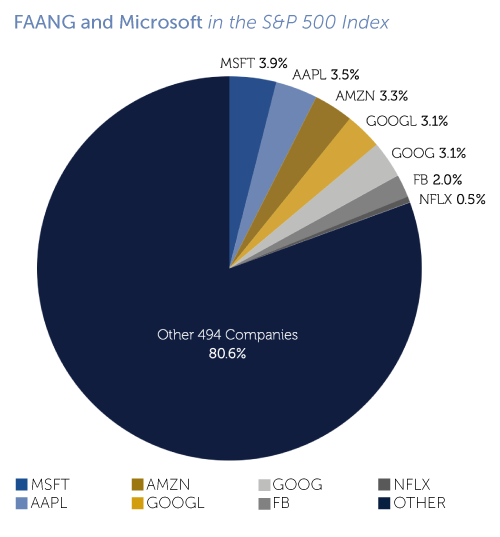 Source: FactSet
To put this in perspective, here are some interesting statistics:
The weightings of Microsoft (3.9%), Apple (3.5%) and Amazon (3.3%) are each more than these entire sectors: Utilities (3.2%), Real Estate (3.1%) and Materials (2.5%).


The market cap of Microsoft ($1,029,024,000 as of the timing of this writing) is equivalent to the smallest 125 companies in the Index combined.



The market caps of Microsoft, Apple and Amazon are each larger than the GDP of the following countries: Turkey, The Netherlands and Saudi Arabia.

1
While this graph and statistics provide many things to consider, one of the more relevant aspects today is the idea that investors who take an indexing approach better be comfortable with such a high concentration of their equity exposure in just six companies.
If you would like to be notified when we release new insights, please let us know! Just complete the form on this page and we will deliver our content to your inbox once per week.